2011-2014 ROUSH TVS SUPERCHARGED FORD MUSTANG GT COYOTE 5.0 ENGINE AUTO KIT
264185226312
Regular price $11,999.99 Sale
The Parts Farm is proud to present:
This GOOD USED 2011-2014 Ford Mustang GT 5.0 COYOTE with 6R80, 6 speed automatic transmission drive train swap kit.
The owner of The Parts Farm puts 19 years of experience in the specialty recycling industry as well as a bachelor of science in electrical engineering to use when hand selecting donor cars to supply drive-train kits for your custom project. At The Parts Farm, we believe in recycling and re-purposing vs buying new!
This engine comes with a Roush TVS 2.3L supercharger kit right out of the box from VMP!
This kit comes with a refurbished Roush TVS 2300L supercharger unit.
This supercharger kit will make over 650 hp on pump gas and 700 on E85!!
This engine was bone stock when we got it.  We have added the supercharger kit so this setup has zero miles since install!
Roush/VMP supercharge kit contents:
 In the Kit
Roush 2.3L TVS supercharger- Low mileage refurb unit right from VMP
VMP Non-Fanned Heat Exchanger with Plug N Play Harness: Dimensions: 2" Thick x 28" Wide x 9.5" Height
56LB Injectors
Roush cold air intake - optional JLT 123mm Plastic CAI
Dual 60MM Throttle Body
85mm Supercharger Pulley for 9psi
Plug and play wiring harness extensions
Upper and lower aluminum intake manifolds with high-efficiency intercooler
Intercooler pump & lines
1st shiv HD belt system with tensioner, belt, and idlers.
All required fasteners, wiring, brackets, hoses and clamps
VMP Performance Custom Calibration Now included! Includes 1 octane and 1 datalog review/revision if needed.

Features
Performance 600+ RWHP 5.0L and 800+ RWHP Boss 302
Flexibility Dial in at a level appropriate for you with our selection of pulleys & upgrades
Driveability Fantastic driveability even at the highest boost levels.
Expandability - TONS of room to grow with many of our optional upgrades
At TPF we call this our "Master Kit".  This kit comes with everything that you need from the donor car to run this engine on a pallet!
We have deleted PATS on this system, for you so you can start it right up without running into the anti theft system that you have to deal with when buying engine kits from other retailers!
We can set this up and ship this as a "Crank-A-Pallet" running engine pallet kit for an additional $850!
Just add battery, fluids and fuel when you get it and fire it off!
RUN PALLET EXAMPLE:------------------------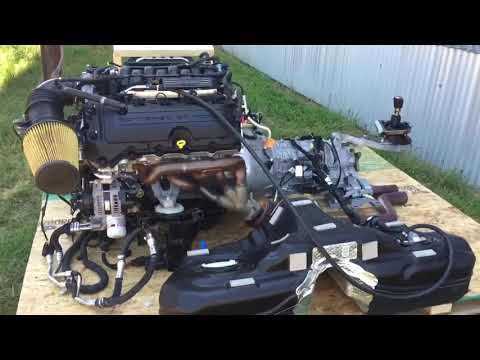 Turn key pallet. 2017 Ford Mustang Shelby GT350 5.2L voodoo engine video - YouTube
Video will open in a new window
Using the eBay App? Paste link into a browser window:
[isdntekvideo]
 We are currently the highest volume domestic muscle car engine vendor in the nation.  Please allow 7-10 business days for your order to ship once paid or in full.
This is a TPF master engine kit with 6R80, 6 speed automatic transmission.
This is a good running engine kit with no problems. GUARANTEED
This is a generation 1 Ford Mustang 5.0 Coyote engine rated at 420 hp before supercharger install
 .
The Master kit includes:
Coyote 5.0 engine with engine cover and coil covers
Exhaust manifolds and oxygen sensors
Alternator
AC compressor
Engine starter motor
All front engine pulleys and idlers and belts.
Coolant tank
Coolant lines
6r80 6 speed Auto transmission
Auto trans shifter, and shift cable
Airbox, mass air meter and intake hose
Engine injector and sensor wiring harness 
Engine computer wiring harness
Dash wiring harness
Body wiring harness
Body control module (power distribution block for the interior)
Main Computer/PCM/ECU
Under hood Fuse box/power distribution box
Drive by wire gas pedal
Matching Speedo/Gauge cluster
steering column and key
Fuel tank, pumps and module
Abs Module
Driveshaft
radio bezel with push to start button
 Also available:
Clutch and brake pedal box assembly $75

Booster and master cylinder combo $75

ABS pump assembly  $75

Radiator : $100

Cooling Fan $100

AC condenser with Ac lines $75

Inside AC blower/heater box assembly :$75

brake pedal: $35
Ask us about install packages!
1 piece driveshafts
Moroso oil pans
Coyote swap headers
Tubular front engine cradles
Custom fuel systems

  We also include all of the bolts and misc fasteners and hardware left over when the engine was removed from the donor car. These high quality fasteners would likely cost over $1000 if purchased new fromt he dealer!  We like to have a good used bucket of bolts around when it comes time to install these kits!
 SHIPPING:
This item must ship truck freight.
Please send your zip code for a freight quote!
This needs to go to an address with a forklift, a loading dock OR to your closest Old Dominion freight terminal.
We do not charge a residential delivery fee.
If you need a lift gate, that adds $50
Payment:
$400 deposit due at time of purchase.  This can be paid by Paypal or Credit card. This deposit is nonrefundable.  This deposit is a commitment to buy and complete the purchase on the part of the buyer.
Balance due within 7 days of purchase. If balance is not paid within 7 days the deposit will be forfeited and the item relisted for sale.
The balance must be paid for by certified funds.  This includes: Cash in person, certified bank check, or bank to bank wire transfer.
We also accept personal and business checks but will not ship item until the funds have cleared the bank.
Due to the nature of the purchase, there are no refunds on engines, engine kits, transmission kits, transmissions, or other engine/trans related special order kits.
The Parts Farm
1572 Ross Bowen
Lyons Ga 30436
The Sweet Onion capital of the world!
Buyers with zero feedback or negative feedback will need to contact me before bidding. 
In cases where Items returned due to changed mind or buyers remorse, original shipping cost will not be refunded and or the return will be subject to a restocking fee to cover lost time, labor, and restocking costs.
Most parts we sell through eBay Motors come with a 120 day warranty. All drive train (engines, transmission, rear axles, etc) carry a 3 month/3,000 mile warranty unless otherwise stated. The 3 month period starts when you take possession of the part. We do not cover the expenses of reprogramming,or any labor costs unless a labor warranty is purchased at the time of checkout.
In the event a part sold with a warranty fails to operate within the warranty period we will replace the part(s) with a functionally equivalent part or refund the part purchase price, at our option. No refund on deposits or unwanted special order parts or special "cut" items.
Original shipping charges and return shipping charges are not refunded. You have 14 days to return a part for any reason other than failure, to process the return you must contact us within the 14 day period to obtain a RMA number (return material authorization). Once you obtain an RMA number, ship the item back to The Parts Farm, 1800 Ross Bowen Rd. Lyons, GA 30436 along with the RMA number.
us!  
Like The Parts Farm on Facebook for extra discounts!
By buying or bidding on this item you acknowledge and agree to the terms stated in this auction.
_______IMPORTANT FREIGHT INFORMATION_______
!!!!!! PLEASE INSPECT ALL FREIGHT BEFORE ACCEPTING DELIVERY !!!!!!!
!!!!!! IF YOU SIGN AND IT IS DAMAGED IT IS YOURS !!!!!!
!!!!!!!! IF YOU REFUSE IT DO TO SHIPPING DAMAGE WE WILL SEND A REPLACEMENT!!!!!!!!!!!!

Due to the nature of the purchase, there are no refunds on engines, engine kits, transmission kits, transmissions, or other engine/trans related special order kits.